Residential Retaining Walls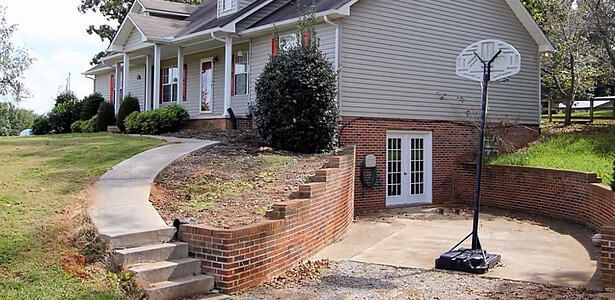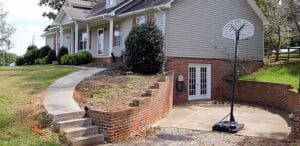 A retaining wall is a structure designed to restrain and stabilize soils and miscellaneous matter to unnatural slopes. They are most often used when two grade elevations are different yes too close together to have a natural slope between them. This is typically around the backs of houses where you have a walk-out basement and the slope around the side of the house does not create level grade outside the door. Retaining walls can serve a variety of purposes and functions, and can range drastically in height, strength, design, and composition of materials.
Retaining Wall Problem Signs
If you've got an older retaining wall, there are a number of potential problems that can happen which could result in them breaking or completely failing and collapsing. Whether this is due to them being designed incorrectly, poorly reinforced, or improperly constructed, they can be occasionally repaired. If the problems are more serious such as the materials degrading or the backfilled area being saturated, it is more likely that they will need to be completely replaced or rebuilt. Failing retaining walls can lead to a number of issues including drainage problems and even basement water issues or crawl space problems.
Retaining walls can fail for many reasons and this doesn't always result in a sudden failure or collapse. Often a failing retaining wall provides many signs of deterioration or warning signs long before a total failure or collapse. Here are some warning signs to look for:
Flexural or shear cracking
Wall is bowed outward
Settled structures adjacent
Efflorescence
Deteriorated materials
Deteriorated or crumbling materials
Saturated backfill
The good thing about a retaining wall is there are many solutions that we can implement including adding reinforcement to existing walls or tearing out and rebuilding a much stronger retaining wall. If you've got an existing retaining wall that is having problems or you've got an area where you think one should be built, please get in touch with our team. Let the professionals at Deska Services guide you through the process towards the ideal and cost effective solution.
If you've got problems with a retaining wall at your home, please contact us today to schedule an appointment with one of our experts to evaluate the wall and determine what repairs need to be implemented.
Engineering Services in Alexandria, VA
I had a very good experience with this company. We had an engineer come out and he was very knowledgeable and wrote a report and made some repair recommendations. We used them to do the work and I was very pleased with the completed project!
Gina M - Alexandria, VA 22301
Foundation Repair in Alexandria, VA
Our home inspector found several issues with our foundation so he referred us to them. An engineer came out to look at the problems and provided us a report of the issues along with recommendations. We also used them to do the work which was nice and…
Andrew H - Alexandria, VA 22312
Waterproofing in Alexandria, VA
Our realtor recommended Deska. We had an engineering inspection done and we needed to seal the cracks with epoxy and install a drain system/pump. They offered a lifetime warranty on the drain system so I am one happy camper!
Matthew N - Alexandria, VA 22312