Professional Bowed Wall Repair in Alexandria, VA, and the Surrounding Areas
Our team at Deska Services offers professional bowed wall repair services for home and building owners in Northern Virginia and the surrounding areas. Bowed, buckling, or leaning basement walls are a sign of excessive lateral pressure from the soil outside of the foundation. If left untreated they will get worse and can lead to a potential foundation collapse.
Our experts understand the severity of bowed walls and have the professional equipment and experience to repair and correct bowing walls before they cause extensive damage to your property.
What Causes Basement Walls to Bow?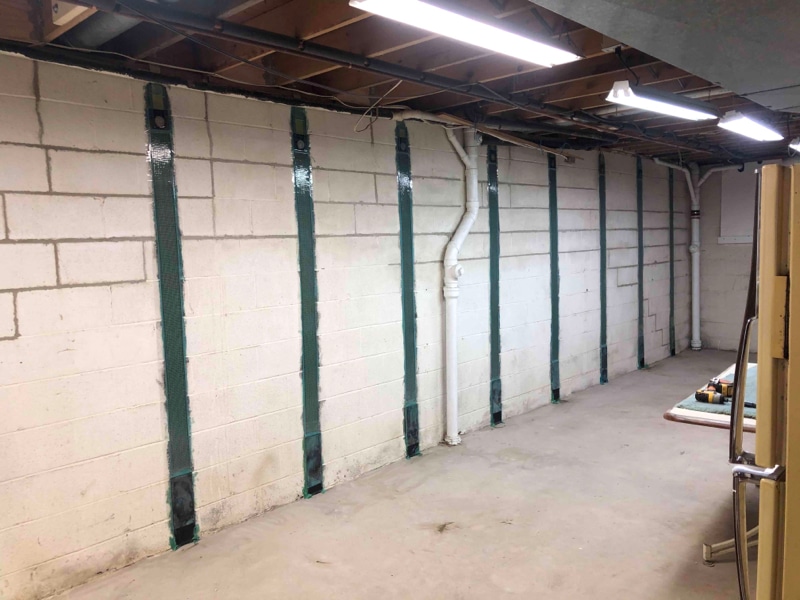 Bowed basement walls are primarily caused by expansive soils and excess hydrostatic pressure. Over time expansive soil push against your foundation walls due to water or frost effects. This pressure if unsupported from the inside will cause your walls to bow and lose structural stability. Hydrostatic pressure refers to the pressure created by excess ground water in the soil around your foundation. The buildup of water in the soil, especially clay rich soil, increases the overall weight and swelling of the soil. The heavier and swollen soil then pushes against the foundation causing bowed basement walls.
In addition to these main causes, there may be underlying factors that are contributing to your bowed basement walls. Ineffective gutters, pre-existing foundation cracks, and improper grading will also contribute to these excessive pressures that cause bowed basement walls.
If you have noticed any foundation wall cracks or have bowing basement walls, contact our team by calling (703) 552-8201 or by clicking the button below to contact our experts online.
How to Identify Bowed Basement Walls
Identifying bowed basement walls early can help you keep your structure stable and will allow our team to effectively repair any damages in the least intrusive way possible. Regularly inspecting your foundation is the best way to determine whether you have any foundation issues. For bowed walls, keep an eye out for horizontal cracks and use a long straight edge such as a level to check if the wall is bowing and plumb.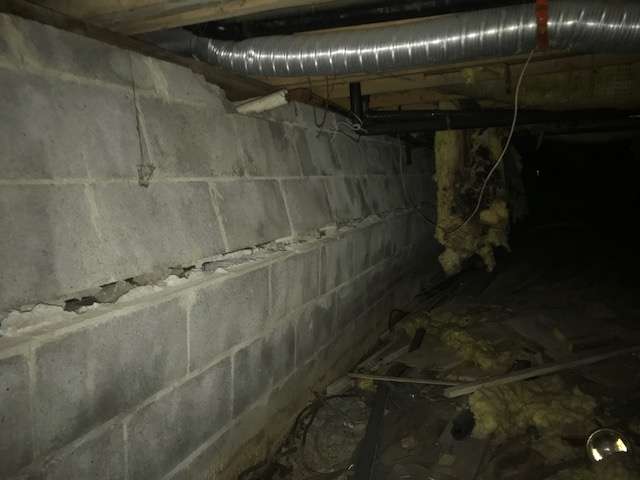 Our Bowed Wall Repair Solutions
Our team uses several methods for repairing bowed or leaning foundation walls. Each basement is different and requires a unique solution for repair. We use wall anchors, steel beams, shear pins, and carbon fiber straps to repair bowing, leaning, and cracking basement walls.
Wall Anchors
Wall anchors are a minimally invasive method for providing stabilization to bowed basement walls affected by hydrostatic pressure. They can be installed on either poured concrete or block foundation walls and remain low profile. Our wall anchors are installed by drilling a small hole through the wall and driving a rod through the hole. This rod is attached at either end to anchors one on your foundation wall and one in more stable soil on the exterior of the home. The interior plate is tightened into place which both anchors the wall and may pull the wall back into its original position if the exterior side of the wall has been excavated to allow for movement.
Carbon Fiber Straps
Carbon fiber straps are among the latest technologies for repairing bowed foundation walls. They are extremely low profile and provide the added benefit of sealing any cracks while also stabilizing the wall from the inside. They are installed on the wall from top to bottom and epoxied in place to provide a permanent support on the wall. The lateral strength of carbon fiber provides the necessary counter pressure needed to keep your foundation walls from bowing inward. These straps are often used on walls with only a small amount of bowing.
Steel Beam Supports
Steel beams are among the most common and most effective methods for stabilizing bowed basement walls. If your walls are just starting to bow or show horizontal cracks or shearing, our team will install custom fitted steal beams. The beams are placed vertically against the wall and locked in place below with concrete footings. The beam is connected to the floor structure above the wall with custom reinforcement brackets. These beams evenly distribute the load and prevent further bowing of basement walls.
Shear Pins
Shear pinning is a method of lateral foundation wall stabilization that can be utilized on hollow unreinforced CMU block foundation walls.  This method involves coring the faces of the hollow blocks at their voids, feeding steel reinforcement into the cells of the wall, and then filling the open cells of the wall with a structural grout to structurally reinforce the foundation wall.
Bowed Wall Repair Gallery
Contact Our Team for Bowed Basement Wall Repair in Alexandria and the Surrounding Areas
Our team at Deska Services has years of experience helping home and business owners repair bowed basement walls. We know which solutions will work and provide you with permanent support for your walls. If you suspect or have identified bowed basement walls in your home contact our team. You can schedule an inspection and estimate for bowed wall repair by calling (703) 552-8201 or by clicking the button below to contact us online.