Residential Dehumidifiers
Often times, even with a complete water collection and removal system, there can be excess moisture and humidity in the air. This could potentially result in the growth of mold and mildew and create musty smells in the basement. The best way to solve this problem is to install a high quality dehumidifier in the area. Our team uses a variety of different capacities of dehumidifier that will be chosen based on your particular home and situation.
Basement and Crawl Space Dehumidifiers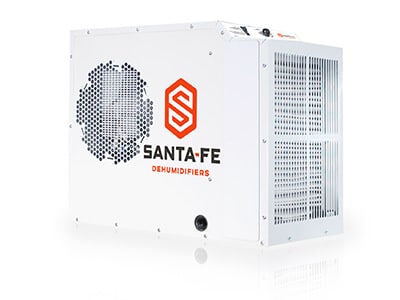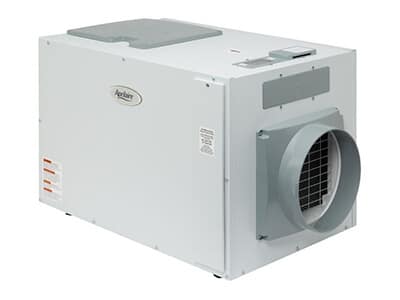 If there are any type of humidity issues in your home, whether they are in a basement or a
crawl space
, we will insist on the installation of a dehumidifier. We use dehumidifiers from both Aprilaire
®
and Santa Fe. These two brands are some of the most reliable in the industry, are both built in the USA and we have seen consistent results with both. Both brands are built to commercial quality and will operate with little or no maintenance for years. A basement dehumidifier will generally connected to the waterproofing system so you will not have to drain any collection trays. This will help reduce the amount of moisture in the basement and allow you to finish the area or use it for storage again. Crawl space dehumidifiers are more compact than basement models and are designed to sit in between the floor joists in the crawl space. This will allow you to continue to use the area for storage while still keeping the humidity at a correct level. Both dehumidifier types will increase the overall indoor air quality of your home. By controlling excess humidity in the basement or crawl space, it will also control the moisture levels in the floors above. This will make the entire space healthier and make your heating and cooling systems more efficient since they will not have to work with excess humidity in the air.
If you have a humidity issue in your basement or crawl space, please contact us today and a member of our team can come out and evaluate your home and determine what type of dehumidifier will work best for you.
Engineering Services in Alexandria, VA
I had a very good experience with this company. We had an engineer come out and he was very knowledgeable and wrote a report and made some repair recommendations. We used them to do the work and I was very pleased with the completed project!
Gina M - Alexandria, VA 22301
Foundation Repair in Alexandria, VA
Our home inspector found several issues with our foundation so he referred us to them. An engineer came out to look at the problems and provided us a report of the issues along with recommendations. We also used them to do the work which was nice and…
Andrew H - Alexandria, VA 22312
Waterproofing in Alexandria, VA
Our realtor recommended Deska. We had an engineering inspection done and we needed to seal the cracks with epoxy and install a drain system/pump. They offered a lifetime warranty on the drain system so I am one happy camper!
Matthew N - Alexandria, VA 22312