Residential Crawl Space Solutions
If you have a problem with your residential crawl space, it is important to have a professional implement the proper repair solution to ensure there are no more future issues. Whether you're plagued by excess water, mold growth, critters in the area, or a sagging floor, our team is experienced in providing expert solutions to these problems.
The solutions available in a residential crawl space will typically fall into one category, closing off the residential crawl space and treating the closed-off area to ensure no more problems arise.
Encapsulation
Encapsulating a residential crawl space is very different from installing a basement waterproofing system and is the first step in solving most crawl space problems. This involves the installation of a heavy-duty crawl space liner along the floor and walls of the crawl space. The liner is completely waterproof and will prevent any new water from entering the area. Once the liner is installed, any vents will be closed and a sealed door will be installed to completely close off the residential crawl space from the outside elements.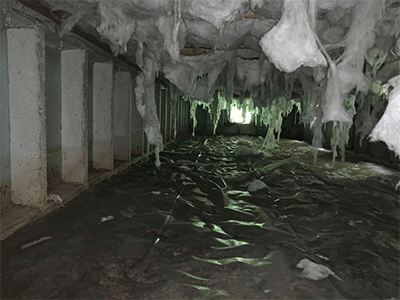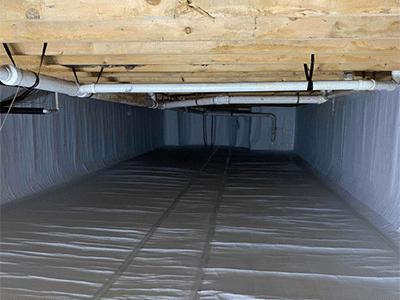 Dehumidifiers
A dehumidifier installed in the crawl space will control any excess humidity. This will prevent the growth of mold and mildew as well as prevent future damage that could be caused by excess humidity such as sagging floor beams or poor air quality.
Floor Joist Repair
Relative to other types of structural or foundation damage, rotted or damaged floor joists are relatively easy and inexpensive to repair. The most common retrofit for a damaged joist or girder is the "sistering" method. This method involves installing a "sister beam" alongside the existing deteriorated member for extra strength. Girder and joist jacks can be installed at specific locations along the structure to support the load. Once in place, the floor can be secured in place or lifted to bring the floor back to a level position.
Additional Solutions
In addition to our normal crawl space solutions, if there is excess water entering the crawl space we may implement some of our basement waterproofing solutions such as perimeter drains or sump pump system installation.
Contact Us
If you've got any type of problems with your crawl space, please contact us today set up a time for one of our experts to come out and inspect your crawl space and help devise a repair solution.
Engineering Services in Alexandria, VA
I had a very good experience with this company. We had an engineer come out and he was very knowledgeable and wrote a report and made some repair recommendations. We used them to do the work and I was very pleased with the completed project!
Gina M - Alexandria, VA 22301
Foundation Repair in Alexandria, VA
Our home inspector found several issues with our foundation so he referred us to them. An engineer came out to look at the problems and provided us a report of the issues along with recommendations. We also used them to do the work which was nice and…
Andrew H - Alexandria, VA 22312
Waterproofing in Alexandria, VA
Our realtor recommended Deska. We had an engineering inspection done and we needed to seal the cracks with epoxy and install a drain system/pump. They offered a lifetime warranty on the drain system so I am one happy camper!
Matthew N - Alexandria, VA 22312