Professional Leaning or Settling Chimney Repair
If you are noticing any separation in the places where your chimney connects to your home, or a tilt forming in the structure, you need to seek leaning chimney repair options immediately. These gaps in between your chimney and home can indicate serious issues concerning the stability of your entire foundation.
Our team at Deska Services has been helping homeowners fix their leaning chimneys for years. We have the expertise to diagnose foundation problems and provide solutions that will fix your chimney. There are a couple reasons why your chimney may be settling or leaning, and there are effective options available to combat the issue. Deska Services offers professional, high-quality, and permanent repair services for leaning or settling chimneys.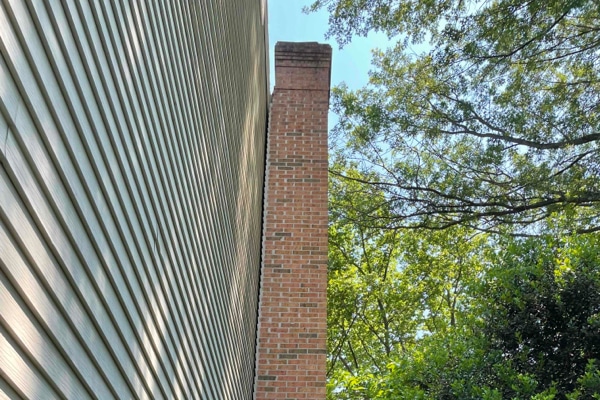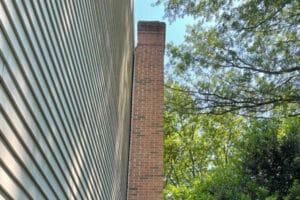 What Causes Chimneys to Lean?
Noticing a leaning chimney on your property or home can be an alarming sight. Chimneys bear a heavy weight and need to be supported with a solid footing to be able to stay intact. The condition of soil surrounding the footing also plays a significant role in the ability to support the structure. Listed below is additional information on the two issues:
Insufficient footing: The size and state of your footing are both factors that contribute to the stability of your chimney. When the footing is not thick enough, it will not be able to properly hold the weight of the chimney. If the ground underneath the footing experiences changes due to weather, it will expand and cause the footing to become shallow and weak. Deteriorated footing can also lead to a leaning/settling chimney if it was made with inferior quality concrete or has developed cracks. In the event there is no footing present, your chimney will not be stable and will continue to lean/settle until one is added.
Poor soil conditions: Expansive soils are not sturdy enough to withstand the heaviness and pressure of your chimney. As water becomes exposed and withdrawn from the surrounding soil it will expand, shrink, and contract. This creates a very unreliable environment to support your chimney, because it creates weak points in the structure.
If you have noticed any leaning or settlement on your chimney, contact our experts. We will provide you with a free inspection and estimate for leaning chimney repair.
Common Signs of a Leaning Chimney
The main signs to look out for when investigating a leaning or settled chimney are:
Visibly Separated Chimney
Cracked mortar at the base of your chimney
Stairstep cracks along the chimney
Washed out chimney footer
Contact our experts if you notice any of these signs or can see that your chimney has pulled away from your home. This is not a problem that can be easily repaired by a mason. Our foundation repair experts can help you shore up the footing of the chimney with professionally installed foundation piers.
How We Fix Leaning or Settled Chimneys
When looking into what course of action to take to repair your chimney, it is important to understand what works and what does not. Some companies resort to filling chimney gaps with methods such as mortar, caulk, or foam insulation. These are not viable repair options because they are short-lived solutions and do not permanently fix the issue.
At Deska Services, our team uses push piers to correct the issue of a leaning or settling chimney. Push pier systems are reliable for settlement problems because of their ability to restabilize heavy structures. A bracket will be secured to the footing below your chimney, and pier sections will drive into the soil with hydraulic force. The pier will drive deeper into the ground until it reaches a stronger section of soil that it will connect to. Once connected, the push pier will be able to combat the weight of your chimney with the new, more stable supporting soil and even return it to its original position.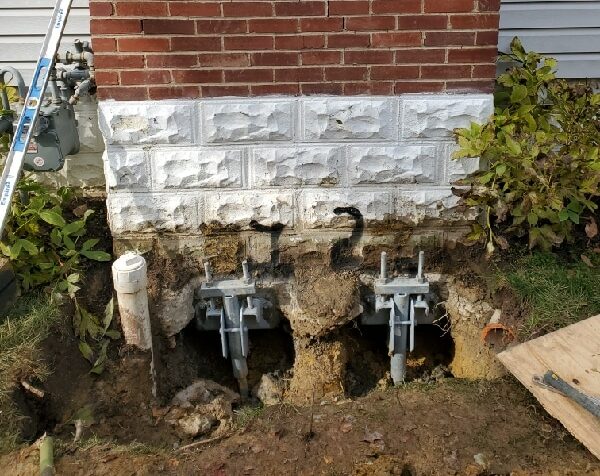 Contact Our team for Leaning Chimney Repair in Central Virginia Today
Deska Services has professional solutions to repair your leaning/settling chimney. Don't try to mask the problem with temporary methods and don't wait for the issue to get worse. Act now with a permanent solution by contacting us today. We can set up an appointment for one of our experts to evaluate the status your chimney and establish the best repair option. Call our team today at (571) 260-5016 or click the button below to contact us online.