Professional Foundation Repair
and Waterproofing Services
Deska Foundation Repair & Basement Waterproofing provides a variety of residential and commercial property services for owners that are suffering from basement or crawl space water issues and foundation problems. We also provide a range of services for building and property managers including repairs as well as interior and exterior property maintenance. Since 2012 we have worked directly with property owners to solve the problems their homes and buildings are suffering from.
Our Services
Our team offers a wide range of services to a number of different client types from commercial building managers to residential property managers and insurance companies. We offer design-build services, service calls, and a variety of turn-key contract services with a seamless work order request system set up to take the problem out of the unit managers hands and schedule directly with the tenant to quickly resolve the issue.
Foundation Repair
Symptoms
Wall Cracks
Uneven Floors
Sticking Doors
Cracked Bricks
Waterproofing
Symptoms
Wet Walls
Standing Water
Wet Walls
Musty Smells
Crawl Space Repair
Symptoms
Mold
Sagging Floors
Damaged Joists
Excess Water
Drainage
Symptoms
Ponding
Leaks
Foundation Issues
Poor Drain flow
We offer high quality and professional results.
We are easy to work with and provide clear, honest communication.
We are transparent about everything we do which causes fewer headaches and less effort on the customer's end.
We offer competitive pricing for all of our work.
We are efficient and work quickly to save you time.
We offer complete records of all work done.
We offer reduced liability for property owners.
All of this adds an extra level of peace of mind so our customers know they are getting the correct work done quickly.
Memberships
We are members of associations in the Virginia, Maryland, and DC areas including:
NARPM Member – National Association of Residential Property Managers
ASCE – Association of Society of Civil Engineers
NVAR – Northern Virginia Association of Realtors
NSPE – National Society of Professional Engineers
Licenses
Our team is licensed to work in Virginia, Maryland, and the District of Columbia under the following licenses:
Virginia Professional Engineering License
Maryland Professional Engineering License
Maryland MHIC License – 119947
Virginia Class A Contracting License — #2705150737, Master Plumbing License, Master Gas Fitting License, Master Electrical License
Washington DC Professional Engineering License
Washington DC Contracting License — 410517000151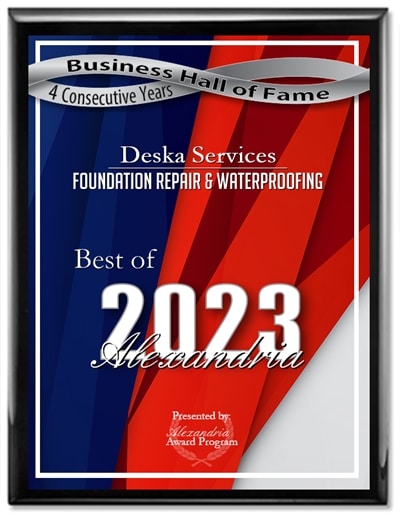 Average rating for Deska Foundation Repair & Basement Waterproofing is 5 stars of 5 stars
Engineering Services in Alexandria, VA
I had a very good experience with this company. We had an engineer come out and he was very knowledgeable and wrote a report and made some repair recommendations. We used them to do the work and I was very pleased with the completed project!
Gina M - Alexandria, VA 22301
Foundation Repair in Alexandria, VA
Our home inspector found several issues with our foundation so he referred us to them. An engineer came out to look at the problems and provided us a report of the issues along with recommendations. We also used them to do the work which was nice and…
Andrew H - Alexandria, VA 22312
Waterproofing in Alexandria, VA
Our realtor recommended Deska. We had an engineering inspection done and we needed to seal the cracks with epoxy and install a drain system/pump. They offered a lifetime warranty on the drain system so I am one happy camper!
Matthew N - Alexandria, VA 22312