Professional Concrete Leveling and Lifting Services


Your concrete won't stay flat and level forever. When it comes to uneven concrete around your home or business, there are many reasons why settlement and cracks may appear. That's why our team at Deska Services offers concrete leveling and lifting services. We work with home and business owners in Northern Virginia, Maryland, and Washington DC to fix uneven and settled concrete slabs, sidewalks, and more.
Our team uses polyjacking for concrete leveling, which is great for driveways, garage floors, sidewalks, patios, porches, pool decks, garden paths, and more. Our system is designed to work on both large and small projects and can usually be installed in less than a day. Contact our team for concrete leveling services today if you notice any signs of sinking concrete around your business.
How Does Polyjacking Work?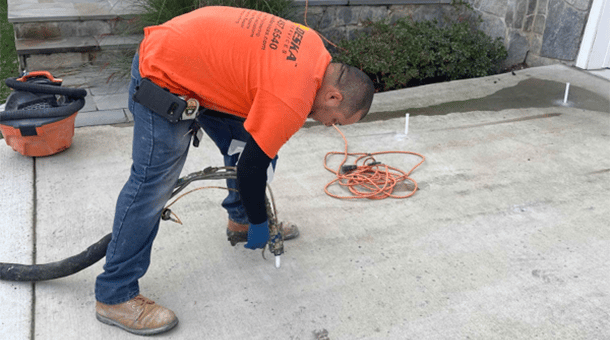 Polyjacking for concrete lifting is one of the many options for repairing sinking and settling concrete slabs around your property. It works by pumping expanding polyurethane foam underneath your concrete slab in the specific areas where voids and settlement have occurred. The expanding polyurethane foam we use leaves little visual impact on the slab, but raises and levels your concrete to remove any uneven areas. Once injected the foam expands lifting the slab, filling voids, and providing a stable base that won't degrade over time. Our concrete leveling team can level slabs as large as driveways in less than a day.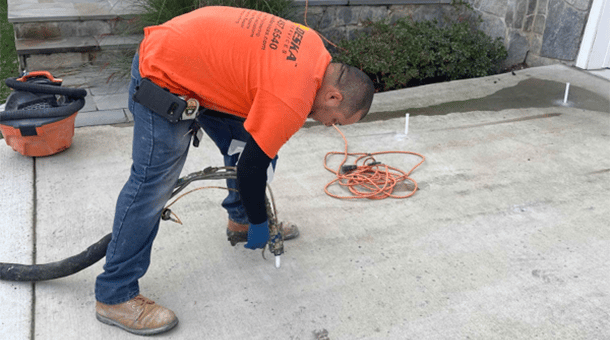 Polyjacking VS. Mudjacking for Concrete Leveling
When it comes to concrete leveling there are many benefits regardless of the method used to achieve the result. Concrete leveling can eliminate tripping hazards, stabilize settled concrete, prevent the need for concrete replacement, and provides minimal evidence of the repair on the top of the slab. However, this is about where the two main methods for concrete leveling end.
Mudjacking is a concrete leveling technique that uses sand, cement, and other materials to raise and level a concrete slab. These materials are mixed into a slurry and pumped underneath the slab through holes drilled in the areas where settlement has occurred. Mudjacking works best for concrete that is in good condition but is no longer level. However, there are some projects where Mudjacking is not the best choice. It won't work for slabs that are heavy, too large, or load bearing. It can also cause more problems for severely damaged concrete because mudjacking can't fill every void that may cause settlement.
Polyjacking is a similar method of concrete leveling that involves injecting high-density expanding foam to raise and stabilize concrete slabs. The material and equipment needed is similar to what is used in spray foam insulation; however, the foam used for lifting concrete has higher strength and will withstand harsher weather conditions. Polyjacking is great for small and large repairs and can be used on load bearing concrete slabs because of its superior expansion properties. When injected underneath a slab the expanding foam can reach voids that are hidden or hard to reach without the need to excessive drilling on your slab.
So, why use poly jacking instead of mudjacking to level concrete? The slurry used in mud jacking is not waterproof and can erode over time if water drains along the sides and underneath the slab. Polyjacking will not break down over time. The foam is waterproof, quickly expands and hardens, won't degrade due to temperature extremes, and has no chemical leaching, so it is environmentally friendly. Polyjacking can withstand more weight and use than mudjacking. Ultimately, poly jacking results in a more polished final product. Fewer resources and heavy equipment are required, so the job site is neater, the surrounding landscape isn't damaged, and the disruption to your home or business is minimal.
Signs You Need Concrete Leveling
Sinking concrete only gets worse when left untreated. Because the problem develops slowly, issues with your concrete slabs are easy to ignore. Our team at Deska Services knows how important it is to address uneven concrete quickly. Often when a home improvement or commercial project requires backfill, the replaced soil is not properly compacted. Concrete is often poured over the recently backfilled soil which can cause settlement and uneven concrete.
It is important to regularly check areas around your home where concrete has been poured. These areas are the most prone to settlement due to soil erosion, soil compaction, and seasonal soil shrinkage. All of these problems cause invisible voids underneath your slabs which over time can cause both settlement and cracking. Be sure to keep an eye our for small cracks, uneven concrete pads, and settlement around your home or business.
Areas Where Concrete Leveling Happens Most Often
Patios
Pool Decks
Parking Lots
Driveways
Schools
Sidewalks
Basements
Garages
Concrete Pads
Concrete Stairs
Contact Us for Concrete Leveling and Lifting in Northern Virginia, Maryland, and Washington DC
If you have uneven concrete, our concrete leveling experts can help. We offer professional concrete leveling and lifting services in addition to foundation repair and basement waterproofing services for home and business owners across our service area. Contact our experts today by calling 703-665-1456 or click the button below to fill out our online contact form.
Customer Reviews
Working with Deska
I had an excellent experience working with Deska.
Kevin W
Epoxy Injection
I had a leaking crack in my foundation that they epoxy injected. I was pleased with the service and I haven't had any issues since!
Coignez S
Waterproofing
Our realtor recommended Deska. We had an engineering inspection done and we needed to seal the cracks with epoxy and install a drain system/pump. They offered a lifetime warranty on
…
Our realtor recommended Deska. We had an engineering inspection done and we needed to seal the cracks with epoxy and install a drain system/pump. They offered a lifetime warranty on the drain system so I am one happy camper!
Matthew N