Deska Services is a licensed professional engineering, specialty structural contractor, and general service contracting company. Our range of services varies from structural engineering design, structural repair, foundation underpinning, and waterproofing.
Our staff includes licensed structural engineers, class A building technical, commercial, and residential contractors, construction managers, and skilled tradesmen with numerous specialty certifications. We pride ourselves on our diverse range of in-house skills compared to most general or specialty contractors. When necessary, we do have a select group of affiliate subcontractors for super specialized skill sets to meet contract requirements.
Our culture embraces that the estimated value of the project should equal or exceed the final project cost and we consistently are able to come in at or under budget on 92% of our projects.
Our Story
Deska Services, LLC was founded in 2012 by Brian E. Deska, P.E. and is a small/micro certified business located in Alexandria, Virginia. Brian is a licensed Professional Engineer and is involved in, and has experience in all levels of the company's technical and business activities. Brian's initial background was in the general construction and specialty metal fabrication industry and then he proceeded to study and practice structural design and inspection prior to creating Deska Services.
Why Deska Services?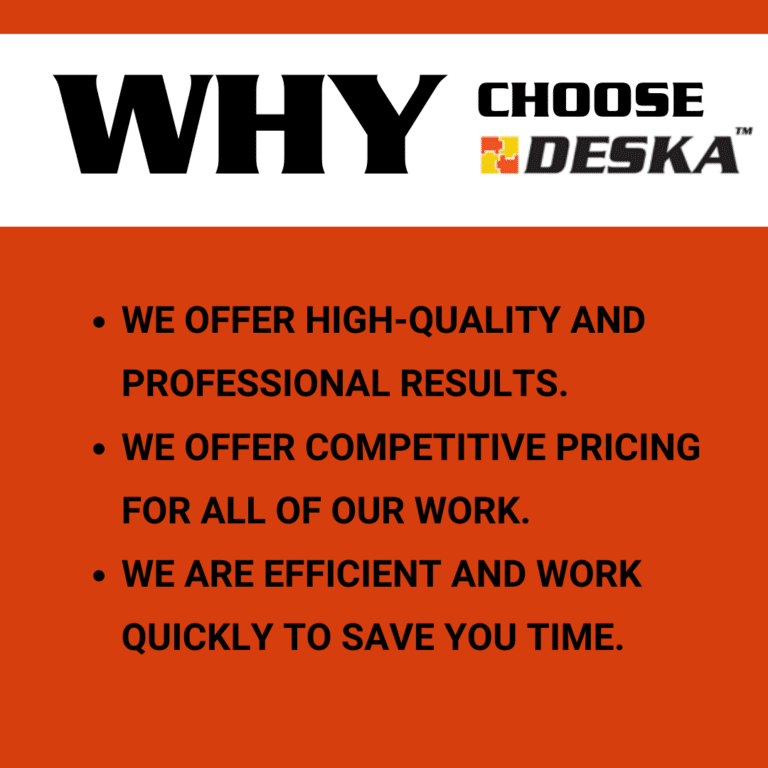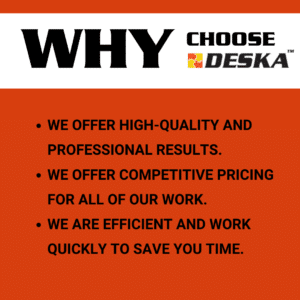 We've made a name for ourselves through our "we do what we say we're going to do" culture and our dedication to our strict quality control procedures and training. Our project management approach is based on our clients' vision and end goals depending on their unique situation and timeline. Our responsiveness and convenience to work with is second to none, along with our positive attitudes guided by our culture, make getting the project done right – Every Time, with minimal effort from our clients and partners.
We strive to always provide prompt and clear communication and to always keep our clients informed on a "real-time" basis. In order to provide the optimal service and solution, Deska Services always has professionally licensed engineers on staff for technical and field support to make sure the project is performed correctly.
Our Mission
To provide our customers with practical and effective foundation solutions at honest and reasonable prices while providing a positive experience.
Our Vision
To be the leader in the foundation repair industry in the DC metropolitan area.
Licenses
Virginia Professional Engineering License
Washington DC Professional Engineering License
Maryland Professional Engineering License
Virginia Class A Contracting License — 2705150737
Washington DC Contracting License — 410517000151
Commercial Building License
Residential Building License
Master Plumbing License
Master Gas Fitting License
Master Electrical License
Back-flow Certification
Specialty Certifications
A.B. Chance Helical Pier Certified
A.B. Chance Helical Pull-down Micropile Certified
Atlas Resistance Pier Certified
Fortress Stabilization Carbon Fiber Reinforcement Certified
Emecole Foundation Flatwork and Reinforcement Certified
Emecole Crack Injection Certified
Emecole Concrete, Pavers, and Brick Sealer Certified
Emecole Drainage Systems Certified
Emecole Crawl Space Encapsulation Certified
Back-flow Certified
PMII Mold Remediation Certified
PMII Commercial Mold Inspection Certified
Certified Installers and Contractors
We are certified contractors and installers for the following products.
Atlas Resistance Pier
Fortress Stabilization Systems Carbon Fiber Installation
Emecole Polyurethane Injection and Epoxy Injection
Emecole Epoxy Injection
Insurance
General Umbrella Liability — $5,000,000.00
Commercial General Liability — $1,000,000.00 — per occurrence
Automobile Liability — $1,000,000.00 — per occurrence
Workers Compensation — $100,000.00 — per occurrence
Virginia Unemployment Insurance — per statute
Service Warranty
We take pride in our work and we know how important it is that the job is done right! That's why we have Professional Engineers on staff and we offer the Best Warranty in the DC Metropolitan Area! We're able to offer such a strong warranty because we use the highest quality products in the industry!
Deska Services provides a 100% satisfaction warranty to the initial contract purchaser on all labor and workmanship on all of our new installation and replacement projects.
Structural Repairs: Up to lifetime warranty
Retaining Walls: Up to 20 year warranty
Exterior Waterproofing Systems: 30 year warranty
Exterior Drainage Systems: 10 year warranty
Interior Waterproofing Systems: Lifetime warranty
For details, specifications, limitations, exclusions and remedies – see written agreements.
Manufacturer Warranty
Deska Services is the exclusive dealer of SafeBasements premium waterproofing and foundation repair products in the DC Metropolitan Area.
Deska Services offers the highest quality premium products and materials from manufacturers with superior warranties. Our manufacturers offer up to double-lifetime transferable warranties. Please contact us for details specific to a product or manufacturer.
Engineering Services in Alexandria, VA
I had a very good experience with this company. We had an engineer come out and he was very knowledgeable and wrote a report and made some repair recommendations. We used them to do the work and I was very pleased with the completed project!
Gina M - Alexandria, VA 22301
Foundation Repair in Alexandria, VA
Our home inspector found several issues with our foundation so he referred us to them. An engineer came out to look at the problems and provided us a report of the issues along with recommendations. We also used them to do the work which was nice and…
Andrew H - Alexandria, VA 22312
Waterproofing in Alexandria, VA
Our realtor recommended Deska. We had an engineering inspection done and we needed to seal the cracks with epoxy and install a drain system/pump. They offered a lifetime warranty on the drain system so I am one happy camper!
Matthew N - Alexandria, VA 22312