Residential Crawl Space Services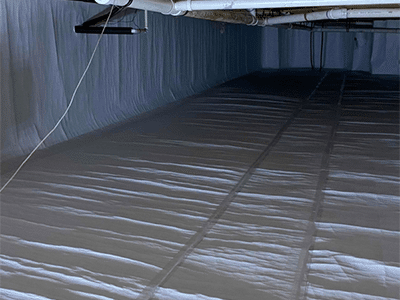 If your home has a crawl space, then you know it can be an area that has some unique issues that are different from problems people with
basements
have. Whether those issues are pooling water, mold growth or mildew smells, or even a cracked wall (which could be related to a
foundation issue
), we have experience working on those types of problems and have solutions in mind. Moisture in a crawl space can create an unhealthy environment that may smell bad and become structurally unsound. Water in an non-ventilated area allows mold and dust mites to thrive producing toxic airborne mold spores. These toxic airborne spores can cause poor indoor air quality and can increase symptoms of allergies. Crawl spaces that are not properly sealed with liners can cause pest infestations, cold or swelled floors, and high electric or gas bills plus the resulting health and structural issues and uneven or sagging floors. Generally, encapsulating crawl spaces is the most effective solution to resolve the poor air quality issues, pests, and high utility bills. Crawl space dehumidifiers can also be installed to combat any moisture issues. Crawl space encapsulation is often performed in conjunction with a drainage system and a sump pump system to resolve any existing drainage issues.
Typically problem signs in crawl spaces could not be apparent for years but they tend to be related to musty smells or water.
While the solutions for crawl space problems are limited, they generally focus on closing off the space and controlling any water and moisture inside.
Crawl Space Repair Gallery
If you're not sure if you need crawl space repair for your home, give us a call at 703-552-8201 or schedule an appointment with one of our experts to come out and take a look at your situation and determine what we can do to help you.
Engineering Services in Alexandria, VA
I had a very good experience with this company. We had an engineer come out and he was very knowledgeable and wrote a report and made some repair recommendations. We used them to do the work and I was very pleased with the completed project!
Gina M - Alexandria, VA 22301
Foundation Repair in Alexandria, VA
Our home inspector found several issues with our foundation so he referred us to them. An engineer came out to look at the problems and provided us a report of the issues along with recommendations. We also used them to do the work which was nice and…
Andrew H - Alexandria, VA 22312
Waterproofing in Alexandria, VA
Our realtor recommended Deska. We had an engineering inspection done and we needed to seal the cracks with epoxy and install a drain system/pump. They offered a lifetime warranty on the drain system so I am one happy camper!
Matthew N - Alexandria, VA 22312